Contact
Open Positions:
For up-to-date options for prospective students and postdocs, please contact the group leader.
Visiting the MDC
Max-Delbrück-Centrum für Molekulare Medizin
Robert-Rössle-Str. 10
13125 Berlin-Buch
The MDC is located in the North East of Berlin on the Campus Berlin-Buch.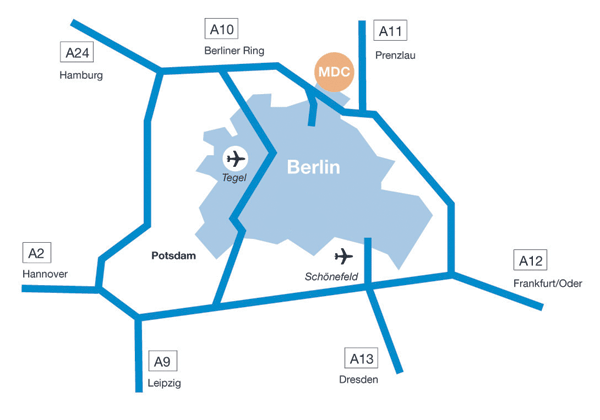 Travelling by car
Driving directions
From the city center (Berlin-Mitte):
Follow Prenzlauer Promenade outward (which then becomes the A114) in the direction of Autobahn Prenzlau.
Take the "Bucher Straße" exit, then turn right at the traffic light onto Hobrechtsfelder Chaussee in the direction of Buch. Continue driving straight for about 4 - 5km,.
After passing the HELIOS Klinikum Berlin-Buch, turn right at the next traffic lights onto Wiltbergstraße. Drive straight for about 2km. Pass under the S-Bahn. After a further 500m Wiltbergstraße bends to the right and merges with Karower Chaussee. Continue along this road for another 500m.
Turn left onto Robert-Rössle-Straße, which will take you to Campus Berlin-Buch and MDC.
Parking
Weekdays 06:30 - 19:00 max. 3hrs free parking. Additional hours are charged at 1€ per hour.
Evenings, weekends & public holidays: free
Enter by the Gatehouse on Robert-Rössle Strasse and take a ticket at the barrier. Turn right and make your way to the MDC car park (behind building 31). On leaving, if you need to pay for extra hours you can find payment machines (which accept coins, notes, and German EC cards) either by the Gatehouse or by the exit on Lindenberger Weg.
Travelling by public transport
Local connections to the MDC
The MDC is very easy to get to by public transport via the S-Bahn to "Berlin-Buch", then by bus to the campus.
Getting to Berlin-Buch
S-Bahn: line S2, direction "Bernau" or "Buch"
From Berlin-Buch to the MDC
Bus: number 353, between "S Buch" and "Klinikum Buch/Südeingang" or "Campus Buch"
On foot: a 15-20min walk
Taxi: costs around 6€. Taxi rank outside S-Bahn station